Greg's Doctor Who Page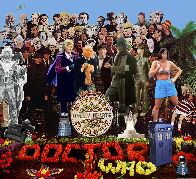 Yes, yes, yes....The Doctor, what can we say of him that those of you in the know, do not already know? I suppose for the uninformed, we can mention that Doctor Who is the longest running, and (IMHO) the best science-fiction show of all time. I think just about everyone remembers the good Doctor, I try and remind everyone of him by wearing my 20 ft. long scarf... It does get me a few looks, but everyone remembers the show, even if it just for a few seconds while scrambling to change channels after Polka-Dot Door ended, and that eerie music (yes, I have heard it described that way) started up...

For clarification, Polka-Dot Door is a show for very young children, and was seen in my area (Southern Ontario) just after dinner, followed by our favourite Time Lord.

Well, here's some of the things I find interesting and useful when discussing Doctor Who....enjoy..




Allow K-9 to take you Back.